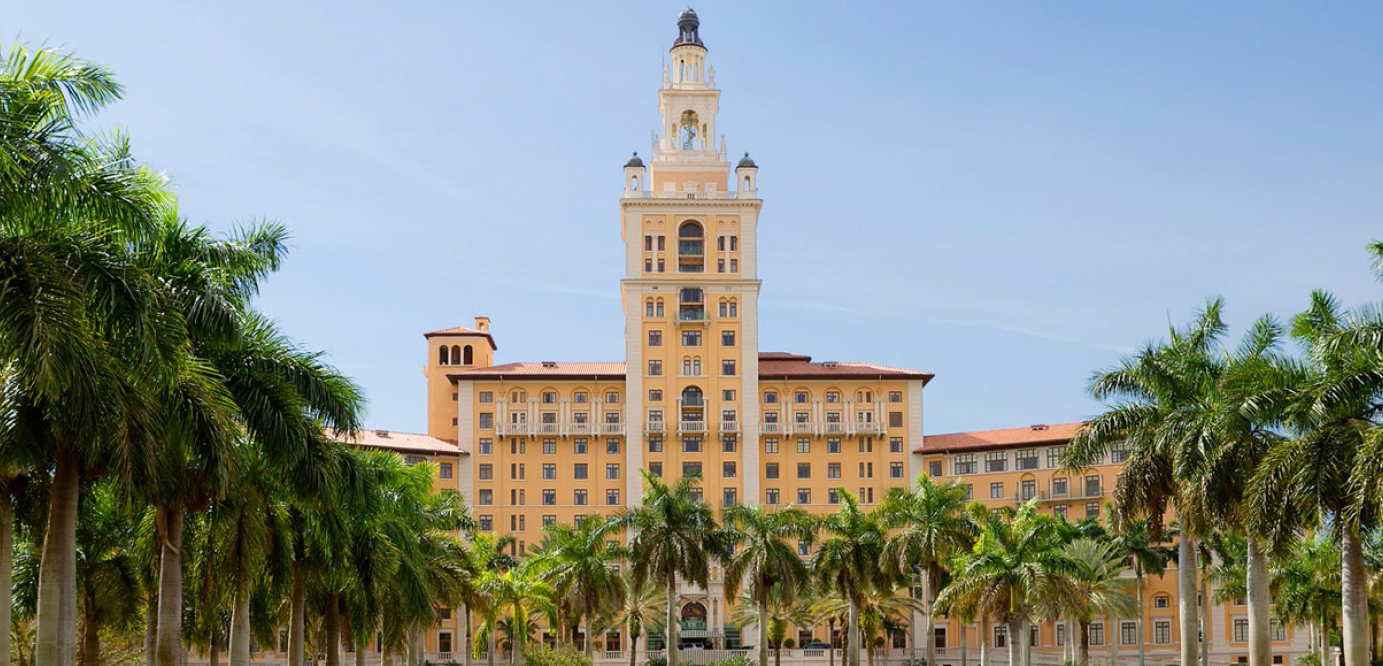 Coral Gables
In addition to its quiet, tree-shaded streets and lovely homes, Coral Gables offers a host of attractions.
Start your day in the company of Coral Gables' own founder, George Merrick, and picture his childhood in his famed gabled-roof house filled with his art, furniture and personal treasures.
Subtropical Matheson Hammock Park has a saltwater "atoll" pool favored by families who enjoy its safe beach, Bayfront views and peaceful picnic grounds. Not far from Matheson, Fairchild Tropical Botanic Garden is a verdant haven of tropical plants and botanical research. Nature's beauty and man's quarry and later envisioned as "the world's most beautiful swimming hole," with its vine-covered loggias, coral caves, shaded porticos and sparkling waters fed by a pristine underground spring.
Golfers can tee off at the Granada Golf Course and the 18-hole Biltmore Hotel, whose 300- foot Giralda Tower is one of Greater Miami's most striking landmarks.
Downtown Coral Gables is home to other historic sites like City Hall; the Colonnade Building on Miracle Mile; and the Old Police and Fire Station, today housing the Coral Gables Museum and Visitors Center. The museum also offers bike tours through Coral Gables. Meanwhile, a collection of outstanding art galleries is clustered within Coral Gables' downtown district.
Miracle Mile is home to many fine restaurants where you can stop and take in the surrounding streets of downtown Coral Gables, which are lined with galleries, showrooms and hundreds of options for high-end shopping, upscale nightlife ad world-class entertainment.
You can catch the latest independent film at Gables Art Cinema, or watch a live Performance at Actor's Playhouse at the Miracle Theatre or Gable Stage at Biltmore.
South Miami
Bordering Coral Gables and Pinecrest, the City of South Miami is known for idyllic residential neighborhoods and a vibrant family-friendly downtown area.
You can find big brands from Banana Republic, Gap and Forever 21 to Victoria's Secret at The Shops at Sunset Place, where you can also find many dining options to satisfy all cravings and moods. For some exciting gaming and arcade fun in the Shops at Sunset Place, GameTime offers 36,000 square feet of indoor amusements, from a full-service restaurant and bar to multiple HDTVs.
Sunset Drive and the surrounding streets offer a range of dining and nightlife options.
West of Coral Gables and North of South Miami, you'll find the peaceful residential enclave of West Miami.
RESTAURANTS
Bocas House
2 Aragon Ave. > 786.631.3739
Caffe Abbracci
318 Aragon Ave. >305.441.0700
George's on Sunset
1549 Sunset Dr. >305.284.9989
No Name Chinese
7400 SW 57th Ct. > 786.577.0734
Old Lisbon Sunset
5837 Sunset Dr. >305.662.7435
Ortanique on the Mile
278 Miracle Miles >305.446.7710
Rok: BRGR Miami
5800 SW 73rd St. > 305.633.6099
Shula's 347
6915 Red Rd. >305.665.9661
Swine Southern Table and Bar
2415 Ponce De Leon Blvd. >786.3606.6433
Talavera
229 Ponce De Leon Blvd. >305.444.2955
Taste Buds of India
5850 Sunset Drive, Suite B >786.216.7904
The Café At Books & Books
265 Aragon Ave. > 305.448.9599
Town Kitchen & Bar
7301 SW 57th Ct. >305.740.8118
Two Chefs Restaurant
8287 S Dixie Hwy. >305.663.2100
Whisk
7382 SW 56th Ave. >786.268.8350
SHOPPING
Miracle Mile & Downtown Coral Gables Shopping District
Miracle Mile from LeJeune to 37th Ave. >305.569.0311
The Shops at Sunset Place
5701 Sunset Dr. >305.663.0482
ARTS & CULTURE
Actor's Playhouse at the Miracle Theater
280 Miracle Mile >305.444.9293
Artsouth
5825 SW 68th St., Suite 2 >305.662.1423
Coral Gables Museum
285 Aragon Ave. > 305.603.8067
Lowe Art Museum, University of Miami
1301 Stanford Dr. >305.284.3535
ATTRACTIONS
Coral Gables Merrick House
907 Coral Way >305.460.5095
Fairchild Tropical Botanic Garden
10901 Old Culter Rd. >305.667.1651
Gametime
5701 Sunset Drive, Suite 330, Shops at Sunset Place >305.667.4263
The Great Escape Room
2315 Le Jeune Rd. >786.322.6619
Venetian Pool
2701 De Soto Blvd. >305.460.5306