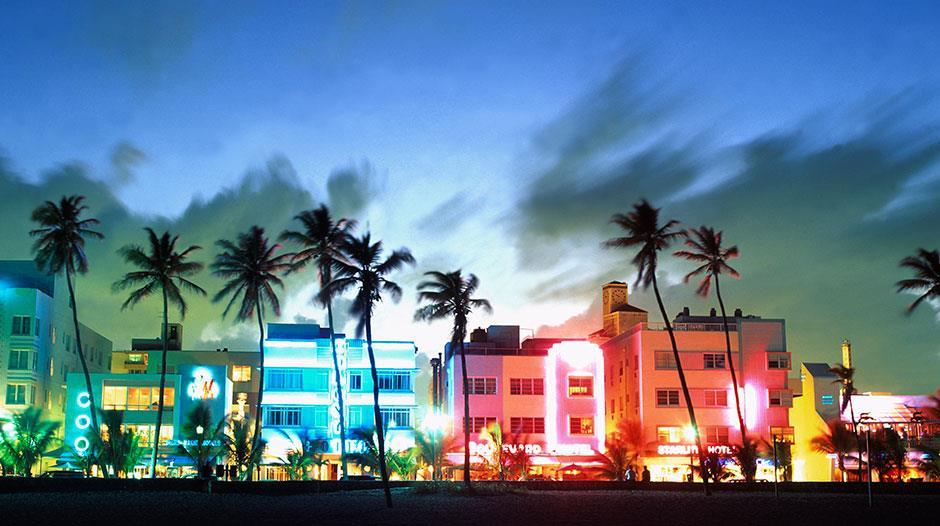 South Beach/ Art Deco District
The Art Deco District – Listed on the national register of Historic Places – is one of Miami Beach's most popular attractions. You can explore it on guided walking tours offered by the Miami Design Preservation League. (MDPL).
A dramatic Spanish Baroque building is home to the Wolfsonian – FIU, a museum that includes pieces of American and European decorative and fine arts that were produced from the height of the Industrial Revolution to the end of World War II. The Jewish Museum of Florida-FIU, is housed in two beautifully restored, side-by-side synagogues. The Holocaust Memorial Miami Beach is identified by the visually stunning image of a giant sculpted hand, reaching toward the skies.
Many of the striking buildings in Miami Beach house fascinating museums, including the Bass, set within a beautiful coral rock Art Deco structure. The museum boasts a permanent collection encompassing more than 500 years and four continents. It re-opened in October 2017, following an extensive transformation.
The art scene in Miami Beach is one of its most unique attractions and it reaches its crescendo during Art Basel Miami Beach. Every December, Miami's most prominent art and cultural institutions pull out all the stops, as artists and collectors travel here from all corners of the globe. If your inner artist is satisfied and the great outdoors beckon, feel free to answer at the sparkling seashore that lines Miami Beach for miles. Stop in at one of many parks, where activities like kite flying, tennis and bicycling will compliment your day in the sun.
Southpointe Park offers beach access, beautiful green spaces and a pier for strolling by the waves.
Lummus Park provides the palm trees and sand dunes that connect the sparkling blue Atlantic with pastel-colored Ocean Drive. Miami Beach Botanical Garden is a peaceful urban oasis. Its 2.6 acres showcase native plants and trees, and host many community events.
Fashionistas looking for cool retail head directly to South Beach. The famous Lincoln Road is one of the nation's first pedestrian-only malls, a brisk hub of national retailers, one-of-a-kind boutiques and art galleries. Shoppers can stop at one of many outdoor cafes, where the people-watching is as good as the food.
Big-name boutiques are tucked beside the restaurants and clubs along Collins Avenue. Browse for the latest looks and accessories at the shops of Ocean Drive. European-flavored Espanola Way offers laid-back cafes and charming stores selling hand-made jewelry and one-of-a-kind clothing. Nearby Washington Avenue is where you will find the latest club wear, as well as designer and vintage fashions.
Dining is an event in Miami Beach, where outdoor cafes combine people-watching with ocean breezes and creative cuisine. Some of the best chefs in the World operate in Miami Beach. The Food Network South Beach Wine & Food Festival features more than 80 events in a span of four days each February.
After a fabulous meal, the night is still young at scores of clubs, bars and lounges across the area. The curtain is rising on concerts, comedy and theater at a number of Miami Beach performance venues, including the Fillmore Miami Beach at the Jackie Gleason Theater. Heading to Lincoln Road, the Colony Theatre is an Art Deco gem dating back to 1935.
The New World Center is a Frank Gehry-designed building that is home base to the New World Symphony (NWS). Symphonic and chamber concerts are performed here on a regular basis. Residents and visitors alike gather on the lawn at Soundscape Park to watch projections of select events on the wall of the building.
The Miami Beach Convention Center is in the midst of a magnificent transformation. Scheduled for completion in fall 2018, it is undergoing a $615-million state-of-the-art transformation. It will include nearly 500,000 square feet of exhibit space and a 60,000-square-foot ballroom. The Center remains open to host events such as Art Basel Miami Beach, attracting visitors from all over the world.
North Beach
While it may not seem like it, North Beach is a neighborhood all its own. Where South Beach is vibrant, bold, and adventurous. Its Northern cousin takes life at a slower speed. Starting near 0th Street and extending up to Surfside to its Northern border, North Beach has long been an enclave for families and children, and you can see why when you wander its amazingly walkable streets and beaches.
The neighborhood boasts a unique collection of Miami Modern (MiMO) buildings, many of which have been restored and preserved as part of the North Shore Historic District. Among the history and the family homes are dozens of hidden treasures and well-known favorites, making North Beach a fantastic place to explore without a car.
North Shore Open Space Park stays true to its name with wide open spaces and no hotel towers to share the view. Amenities include a dog park, picnic tables, nature and exercise trails and a bike path. Adjacent to the park, the North Beach Bandshell is a unique concert venue near the ocean. It's on the National Register of Historic Places based on its Miami Modern (MiMo) architectural style.
Just to the West 71st Street is a main thoroughfare leading back to the mainland. It's lined with a variety of shops and restaurants, with the beautiful Normandy Isle Park and fountain steps away.
Continuing to the mainland, you can find beautiful views in North Bay Village and Indian Creek Village.
RESTAURANTS
Buenos Aires Bakery
7134 Collins Ave. > 305.861.7887
Café Prima Pasta
414 717st ST. >305.867.01067
Joe's Stone Crab
11 Washington Ave. >305.673.0365
Le Sandwicherie
229 14th St. >305.532.8934
Little Brazil
6984 Collins Ave. >305.397.8215
Manolo
7300 Collins Ave. >305.868.4381
Norman's Tavern
6770 Collins Ave. >305.868.9248
Pubbelly Sushi
1424 20th St. >305.531.9282
Smith & Wollensky
One Washington Ave. >305.673.2800
NIGHTLIFE
Liv At Fontainebleau
4441 Collins Ave. >305.674.4680
Mango's Tropical Café
900 Ocean Dr. >305.673.4422
The Cleavelander
1020 Ocean Dr. >305.532.4006
ARTS & CULTURE
Art Deco Museum
1001 Ocean Dr. >305.672.2014
Artcenter/South Florida
924 Lincoln Rd. >305.674.8278
Colony Theatre
1040 Lincoln Rd. >305.674.1040
Holocaust Memorial Miami Beach
1933-1945 Meridian Ave. >305.538.1663
Jewish Museum of Florida-FIU
301 Washington Ave. >305.672.5044
New World Center
500 17th St. >305.673.3330
North Beach Handshell
7275 Collins Ave. >786.453.2897
The Bass
2100 Collins Ave. >305.673.7530
The Fillmore Miami Beach at the Jackie Gleason Theater
1700 Washington Ave. >305.673.7300
The Wolfsonian-FIU
1001 Washington Ave. >305.531.1001
ATTRACTIONS
Art Deco Historic District
Miami Design Preservation League, 1001 Ocean Dr. >305.672.2014
Faena District
3201 Collins Ave. >305.534.8800
Miami Beach Botanical Garden
2000 Convention Center Dr. >305.673.7256
Ocean Drive
Between Collins Avenue and the Atlantic Ocean, from First Street to 15th Street
SHOPPING
Collins Avenue / Ocean Drive Shopping District
Collins Avenue and Ocean Drive, between 5th and 10th streets
Espanola Way / Washington Avenue Shopping Distrcit
Between Washington and Pennsylvania avenues and 14th and 15th streets
Lincoln Road Shopping District
Collins Avenue to Bay Road, between 16th and 17th streets
SIGHTSEEING & TOURS
Miami Design Preservation League
1001 Ocean Dr. >305.672.2014
Ocean Force Adventures
Miami Beach Marina, 300 Alton Road, Pier E >305.372.3388